Dick Verdult – It Is True But Not Here
Documentary
'Dick Verdult – It Is True But Not Here' is a documentary about the enigmatic artist and cult musician Dick Verdult (Eindhoven, 1954), known in Latin America as Dick El Demasiado.
The career of Eindhoven-based artist and musician Dick Verdult spans decades. He is seen as an outsider, as 'the last Dada-ist'. But what we experience as elusiveness turns out to be quite controlled and firstly funded on very personal experiences from his childhood as a 'Philips child' in Latin America. Rather than experiencing globalism as a problem, Verdult is like a cheerful, transcultural mutant. We see how, at the age of 60, he has become a cult musician in South America, Russia and Japan and is increasingly recognised internationally as a visual artist. This documentary explores Verdult's multidisciplinary, international art practice. We see Verdult at work in his studios in Bergeijk (The Netherlands) and Calanda (Spain) and on tour in Peru, Colombia and Argentina.
The film had its national premiere in February 2017 at Docfeed Festival Eindhoven, where it won the Best National Feature Documentary award. Worldwide premiere at BAFICI 2017, US premiere and nomination for MM Filmmaker Award at Margaret Mead Festival New York. 
Production seriousFilm / NewtonFilm, supported by Dutch Cultural Mediafund / Brabantse Beauties
Sales (North / South America): Gluon Media LLC: lipe [at] gluon.media
Distribution (Argentina): Fuera De La Comun
Press: ****Volkskrant (Netherlands), Algemeen Dagblad (Netherlands), Eindhovens Dagblad (Netherlands), VPRO (Netherlands), VICE Thump (Netherlands), VICE (Netherlands), VICE (Colombia),  ****A Sala Llena (Argentina), Almagro Revista (Argentina), Proyector Fantasma (Argentina), Radio Vorterix (Argentina), Nacional Rock (Argentina), Radio Cut (Argentina),  Casetteblog (Mexico), Shock TV y Cine (Colombia), Revista Arcardia (Colombia), La Diaria (Uruguay), Brabants Dagblad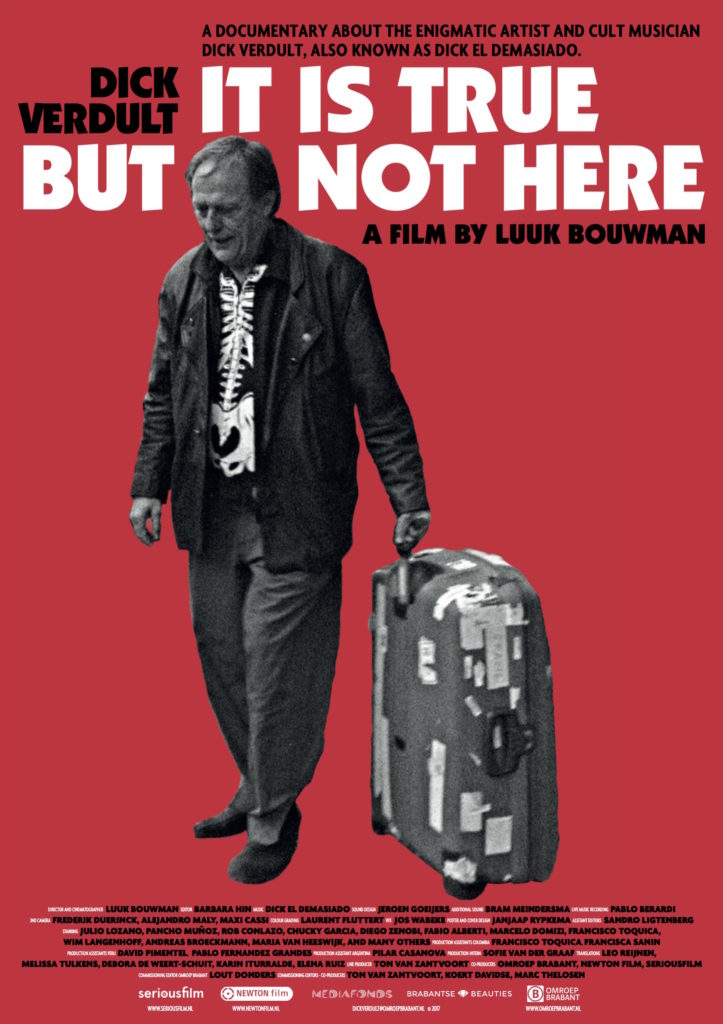 Credits
director / cinematographer
Luuk Bouwman
editor
Barbara Hin
sound design / final mix
Jeroen Goeijers
additional sound
Bram Meindersma
grading / deliveries
Laurent Fluttert
compositing / VFX
Jos Wabeke
assistent editor
Sandro Ligtenberg
music
Dick el Demasiado
second camera
Frederik Duerinck
Alejandro Maly
live music recordings
Pablo Berardi
production assistants Colombia
Francisco Toquica
Francesca Sanin
production assistants Peru
David Pimentel
Pablo Fernandes Grandez
production assistant Argentina
Pilar Casanova
intern
Sofie van der Graaf
spanish translation
Melissa Tulkens
Debora de Weert-Schuit
Karin Iturralde
executive producer
Ton van Zantvoort
production
Omroep Brabant
NEWTON film
seriousFilm
commissioning editor Omroep Brabant
Lout Donders
commissioning editors co-producers
Ton van Zantvoort
Koert Davidse
Marc Thelosen